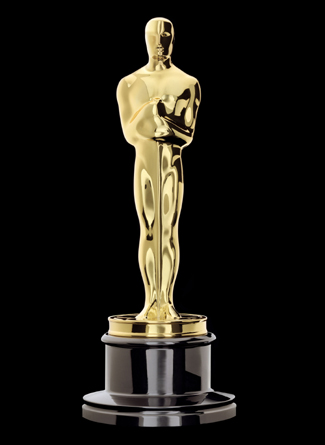 I can hardly contain my excitement! As well all know (or
should
know), Sunday is Oscar night. This is one of my favorite nights of the year! I don't want to hear about the fact that it's political, fixed, or unfair - even if that is true I don't care about that right now. I love the pomp and circumstance, the awkward acceptance speeches and the occasional one that makes you really feel happy for the winner. I love the awkward scripts, the best of the best actors who panic when the teleprompter fails, and the (far too occasional) fantastic host. And I love the fashion - duh. :)
And though I won't be watching this year (as far as I know, they don't really show it over here, at least not on any of the channels I get. BOO!), I'll be devouring the videos and red-carpet shots the next morning.
If I ever live State-side again I will - without doubt - throw an Oscar Soiree. And if I ever live close to my dear, hilarious, also-Oscar-obsessed friend Sarah (who just started a fabulous
blog
, which you must read), I know we'd throw an Oscar party to rival the Governor's Ball. Right, Sarah?
And if you're going to throw an Oscar Soiree, dahling, you must dress the part. There's
no
point in throwing an oscar party if you're not going to win best costume. I personally think I'd go all out, but in case that's not your
thang
, here are two looks (one red-carpet ready, one after-party chic) to inspire you to look like a winner on the big night! And whatever you choose to wear, make sure there's a little sparkle, otherwise it's just plain wrong. A sin, even.
And now for the party looks:
OSCAR GLAM
AFTER-PARTY CHIC
What are you up to on Oscar night? Are you watching? Are you partying? Do tell!