Good morning, people! It's Friday...WOOHOO! For me this was a very quick week, but I know for my dear hubby it was a slow one. I hope your week has flown by and that you're ready for a relaxing/funfilled/crazy weekend. Tonight the hubster and I are going on a date - thank you R for babysitting! We're going for cocktails and a movie (which could be interesting). He's trying to convince me to see Tron (on a DATE), and I might be convinced.....maybe. Or maybe not. Another contender is Biutiful and that's it, really. The Fighter isn't out until next week here (dying to see that). Any suggestions of what we could see tonight?
Moving on...I thought I'd start your Friday off with some simply darling things. :) I saw this on one of
my favorite blogs
yesterday and I just had to share it - how sweet is this
ring dish
with a letter from Miss Monroe? I'd love to add it to my vanity table:
Piglet - don't ask me why but this makes me think of you :)
Speaking of darling things, these make my list, too:
I think I'd feel like Joan in this Mad Men-esque Anthropologie number - perfect for a woman with curvess
Made by my AMAZING and talented friend, Jennifer
Adorable printable calendar, free to download via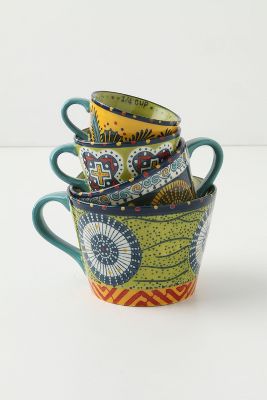 The most adorable measuring cups via
Speaking of a beautiful dress....
...I fell in love with this muted ensemble that Rachel McAdams wore in Morning Glory. The movement of the dress when she was running was beautiful! Of course, you have to have her figure to look like that in that dress!! :)
I hope your weekend is full of darling things.
Happy Friday, everyone!