Today was one of those days where I did not. want. to. get. out. of. bed. At all. But I dragged myself out - eventually - only to spend all day wishing I could crawl back in. I guess I'm just feeling totally exhausted today - so much so that I feel like I did the trans-atlantic flight that my Mother-in-law just did (she arrived with us this morning and we are oh-so happy to see her, especially her youngest fan!).
I saw this image in Lonny a few weeks ago when the new issue was launched and I've spent pretty much all month dreaming about this bed. It's pretty perfect, and those nail heads - amazing. Here it is:
I love an upholstered headboard. LOVE. Maybe it's because I had one when I was a little girl - it was covered in a beautiful peach floral fabric (my little girl room was peach, not pink, an girly alternate that I just love, I must say), with beautiful piping and pleating around the frame. I wish I had a photo to share with you, it really was lovely and I wish I still had it for my little girl. Alas, that was not to be!
Right now I have a wrought iron bedframe. Don't get me wrong, I loved it at the time and it's pretty, but I'm ready for something new. Something comfortable, chic, elegant. Something upholstered, natch. So I went scouring the ol' internet and founds some beautiful pieces out there just waiting for me to come and claim one.
Here's one that's oh-so-similar to the custom-made one featured in Lonny above. It's from the good ole folks at Pottery Barn:
Pottery Barn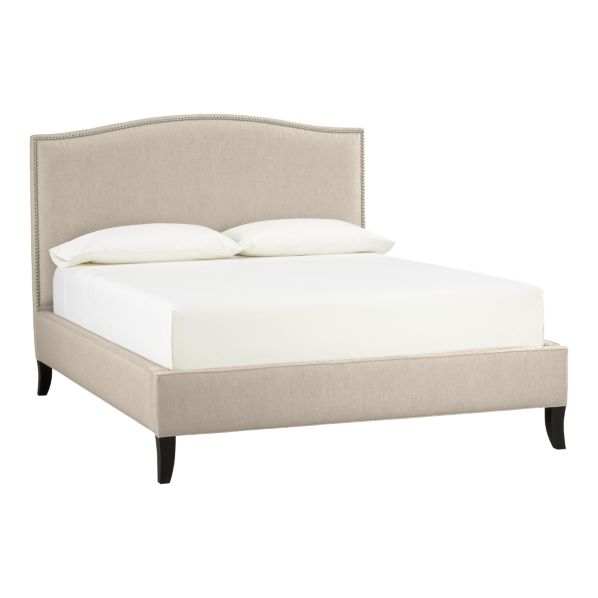 Crate and Barrel's beautiful Collette bed