I'm in a shopping kinda mood - but that's not going to happen right now so internet-window-shopping it is. Today's pick: Anthropologie, of course. I've picked things I love for me and my body type, but there are other beautiful things that just wouldn't suit me so do go look! Also, I'd have to win the lottery for this wardrobe (why is Anthro so 'spensive lately?), but hey, a girl can dream...
Bear with me, I wanna buy a lot of stuff today!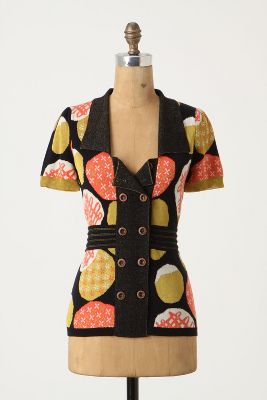 Makes me think of Mad Men
Swimsuit season - AGHH! I'm all about the one-piece these days (although they have equally cute two-pieces, I'm loving retro style two-pieces the most!). Does the amazing supermodel figure come included?
And while we're at it I'll take this, cause I'm craving a geometric/zig-zag rug and yellow is making me happy right now (see dresses above):
These sheets, cause I love me some ikat but I don't think I want my whole bed to be it:
This, cause although I'm a Le Creuset girl, I hear Staub's are brilliant and that color: to.die.
These, because I love blown glass and have always wanted tumblers like this:
These, because they're the most ladylike steak-knives I've ever seen, and Laguiole is pretty good, too.
Ok, I'm off to go shoe shop for my little munchkin with my Mother-in-law. Woohoo. But you'd better tell me what your recent Anthro-buys or cravings this season are. Go on, make me jealous...